About menstrual panties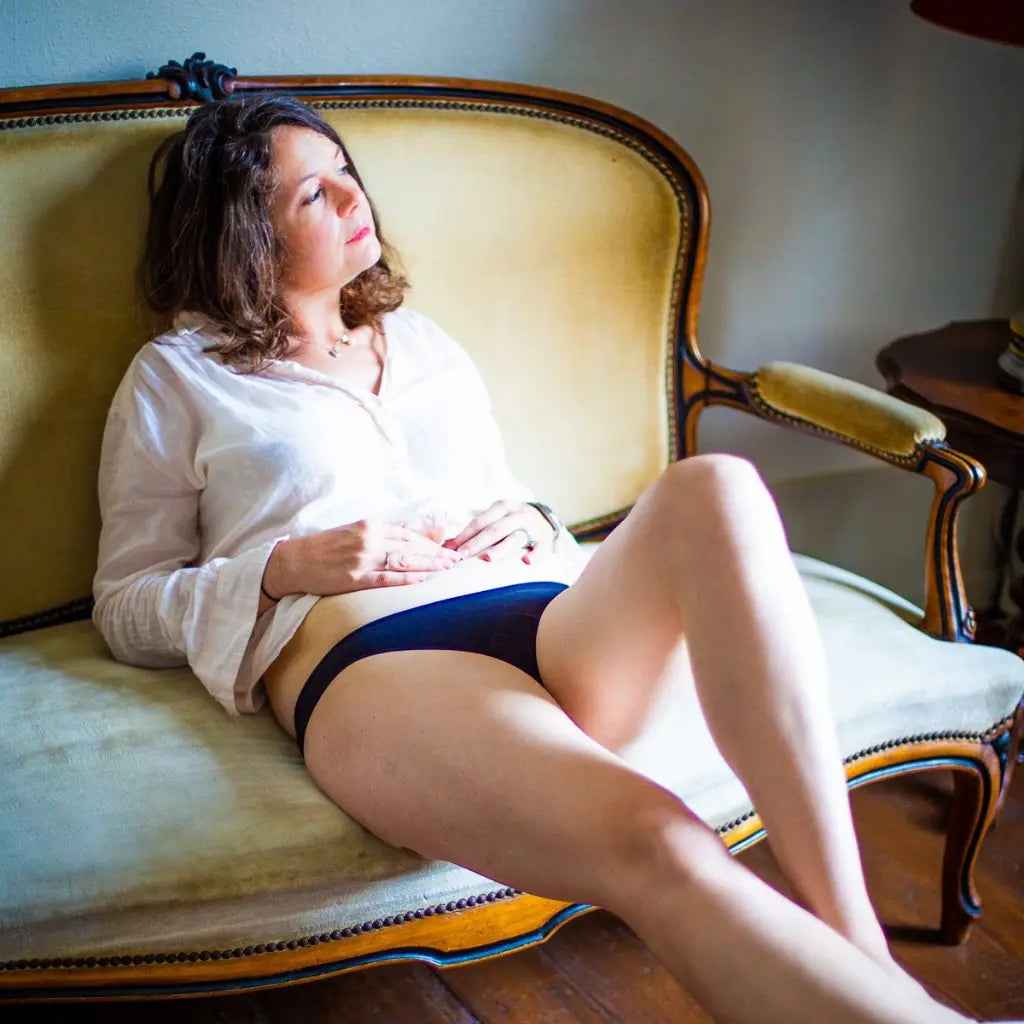 What exactly are period panties?

Libréa menstrual panties are a new comfortable , practical and eco-friendly alternative designed to replace (totally or partially) tampons and classic absorbents.

Libréa menstrual panties are hygienic, practical, safe and offer you an ideal way to feel comfortable in your skin even during your period. Also, the Libréa menstrual panties can be washed and reused over a long period of time.

Thanks to the three protective layers that absorb and retain blood, the Libréa menstrual panties give you the protection you need and keep you away from unwanted stains. However, if you feel you need extra protection, you can use them with a menstrual cup.

With Libréa, you can say "goodbye" to regular tampons and absorbent pads!
How do menstrual panties work?

Libréa menstrual panties are made of bamboo fibers , an antibacterial material that allows the skin to breathe.

The "central" part (middle) of the panty consists of three different materials (3 layers), carefully chosen and tested, which absorb and retain menstrual blood, just like a regular absorbent pad.

The first layer: it is the one in direct contact with the skin, made of natural organic cotton fibers. The role of this layer is to guide the blood towards the absorbent layer. This layer is smooth and gentle on your skin, designed to keep the unpleasant feeling of wetness at bay.
The second layer: it is made of microfibers, which are naturally super-absorbent. This layer has the role of collecting and retaining the blood until the moment the panties are washed.
Third layer: It's waterproof and acts as a barrier between the second layer and the clothes you're wearing, keeping you away from unwanted stains.

We have chosen the best and quality materials for you to feel good in your skin #lamenstruation!

The livery gives you a comfortable and refreshing feeling, and we have a SEAMLESS technology base: The panty is super elastic, and it won't cause you any discomfort!

Now that you've learned how Librea menstrual panties work, things are even simpler: wash the panties before the first use, wear them and enjoy the most comfortable days #menstruation!
What are the advantages of menstrual panties?

We created the Libréa menstrual underwear, so you can enjoy the freedom and comfort you need when you're #menstruating.

Here are 4 reasons that can convince you to switch to the Librea menstrual panties:

🕊️ Enjoy more freedom & less stress! Stop being afraid of unwanted spots and irritations. Libréa menstrual panties offer you up to 12 hours of guaranteed protection, without smell or feeling of wetness. A single pair of panties = 4 normal tampons/absorbents or 2 menstrual cups. With Librea, you enjoy absolute comfort!
🦠 You stay healthy! Libréa panties do not contain toxins that come into direct contact with your body, unlike regular absorbent pads that contain endocrine disruptors and are full of chemicals. With Libréa, you are safe and away from any risk of developing toxic shock syndrome or other health problems caused by internal tampons.
🌱 Take care of our planet! Do you want to keep throwing away a product you've only worn for a few hours...? By switching from classic absorbent pads to Libréa menstrual panties, I contribute to protecting the environment by significantly reducing the number of tampons or absorbent pads consumed.
🌱 Produced near you, in Europe, more precisely, in Romania! 😀
💰 Reduce expenses and feel comfortable too! The lifetime of menstrual panties is at least 3 years, without the need to buy tampons or absorbents. This way, you save the money you would have spent month after month on tampons and absorbent pads.
How safe is their use?

For us, health, safety and transparency are aspects by which we guide our entire activity. Every material we use to create the Librea menstrual panties is OEKO-TEX Standard 100 certified: an international certification that certifies the non-toxicity of the materials, both for us and for the planet.

The natural fibers are antibacterial, keeping you safe from unwanted infections caused by various bacteria, even when you wear them for hours on end.
How long can I wear my pair of Libréa during menstruation?

Every woman is different! That's why we created the Librea panties in such a way that they can be cleaned as much as your flow and lifestyle allows ! Within our community, we have noticed that more often than not, the Libréa panties are worn for a longer period of time than any other traditional solution, without issues of leakage or discomfort.

Librea menstrual panties can absorb up to 15ml of blood, the equivalent of 3-4 classic tampons . In order to find out how the Libréa menstrual panties work for you, we invite you to try them on and carefully observe how they behave during your period.

Some women wear them throughout the day, while others feel the need to turn to the spare pair. You can use them at home or at work, day or night, at rest or during training.

With Libréa, you can enjoy the comfort you need anywhere and anytime !
Are the materials correct and do they not contain other compounds than what is noted here?

There have been scandals with various companies producing menstrual panties because of toxic materials (mainly PFAS - perfluoroalkylated and polyfluoroalkylated)...

You are absolutely right to follow this news! Bravo! We have been following this thread closely and felt sorry for the women involved. We control 100% of the design of the Libréa panties, including purchasing the fabrics that come from Europe or Turkey. Our fabrics are all certified standard 100 by oeko-tex. It is a global certificate that guarantees reliable control of harmful substances. Designing our panties ourselves and in local production was an important choice that requires a lot of energy every day, but one that we are very proud of! Good health!
How do you tell the difference between light or medium flow panties and heavy or super flow panties?

It will be easy to tell the difference by touching the center (middle) area of ​​the panty, which is slightly thicker in the case of the high flow panty.

For a super abundant flow, we created a special model, whose absorbent complex extends to the back of the panty. It is a unique model, made to order!
About care
How should I wash my period panties?

Libréa panties are easy to maintain and can be used multiple times without any problems. What should you do? Treat them simply like any of your underwear: gently !

Rinse them with cold water and then gently wring them out.
Put them in the washing machine with the rest of your clothes and choose the delicates program. Do not use bleach or fabric softener!
Dry them in the open air or in a warm place!
Avoid wet environments, ironing or machine drying! They can affect the technical properties of the linen.

How to wash your menstrual panties: Complete guide !

Wear them, Wash them, Reuse them! 😍
Will the rest of the clothes get dirty if I wash them in the washing machine?

Fortunately, no :) Think of menstrual blood as a heavier vaginal discharge. This is not compounded like the blood we are used to seeing during a cut, for example. Menstrual blood is more viscous, without clotting, so it can flow smoothly from the uterus to the vagina. It also cleans itself during flow.

We still recommend rinsing and wringing your panties before putting them in the machine with the rest of your clothes, as a sort of pre-wash ritual.
How long will the Libréa menstrual panties last?

We choose the best quality materials so that your underwear lasts as long as possible. Materials from a technological point of view do not have a time limit . However, panties will wear out, just like any other item of underwear. It all depends on how you take care of them and how you clean them. We can estimate that you will enjoy them for about 3 years.
About Delivery & Returns
100% satisfaction!

We get it... this change is a bold one and we women are very different . As much as we're sure you'll love your new underwear, we know that might not be the case, and we respect that. Because your trust and happiness are the most important to us , we get involved so that you are 100% satisfied.


If after using the Librea menstrual panties you have come to the conclusion that they did not bring you any benefit, contact us by e-mail or fill out the contact form on our website, within the first 35 days of purchase , and we will find the perfect solution for you. For more details, see our return policy page.
What are the delivery areas for Librea products?

We've embraced a mission to improve the everyday lives of women everywhere by providing them with an eco-friendly alternative to menstruation. Thus, we started with the Libréa menstrual panties, created for Romanian women. And because we want to reach as many women as possible, we deliver throughout the country.

We can also send international orders (especially in the western part of Europe), because we really want to create a buzz and tell people abroad about what wonderful products they can find in Romania.

So, if you want us to deliver our product to you anywhere in the world, let us know at librea.one@gmail.com and we will do our best to bring Librea into your life.